Great music, ice cream, a glass of wine, and a furry companion. What a perfect combination!
Today was such a long day. That is why you are currently lying on your couch, enjoying your favorite music while scooping the bottom of your ice cream cup with a glass of wine waiting on your coffee table. Meanwhile, your furry little tail wager is resting on your chest, staring at you like she's worried.
Oh, those adorable puppy eyes!
That is exactly why you decided to adopt her in the first place. Nothing compares to the genuine concern you get from a loyal and faithful furry companion, and you definitely need more quality time like this with her!
There has got to be something extraordinary you can do to have a quality time with your furry baby.
Well, why don't you try driving cross country with your dog?
That's right! A road trip!
Either just the two of you, or with family/someone close to you.
If you are a dog parent who travels a lot with your furry babies, this might be a piece of cake. However, road trips might bring some doubts from dog parents who spend more of their time at home.
No worries, though! Driving cross country with your dog is, in fact, one of the best ways to bond and have a dedicated quality time with them. If you prepare well, you will experience the most pleasant and exciting moments with your loyal furry companion. For that reason, through this article, we will help you go through a step-by-step preparation in driving cross country with your dog.
DoggieBreeds.com is reader-supported, and as an Amazon Associate, we earn commissions from qualifying purchases (at no extra cost to you). See our disclaimer page for more information.
1. Visit Your Vet
Before starting the preparation for your road trip, you need to check with your vet first whether your furry baby is capable of joining you on your long journey.
Make sure that your dog is healthy and updated in their vaccination. Also, confer with your vet regarding fleas, ticks, heartworms, or other possible health concerns that may occur in your travel. Then, update the medication supplies that your furry baby might need, especially the ones for emergencies like car sickness, diarrhea, and allergic reactions.
When you get home, prepare copies of your dog's vaccination certificate and medical records and always take them with you in your travel, just in case.
2. Keep the Dog Tag Updated
If your vet has given you an OK, then you can start preparing now. The first thing you have to do before planning a road trip is to get your dog tag updated. If necessary, get the one featured with a GPS tracker as well like the Paw Prints ID QR Smart GPS Dog Tag.
Also, you can always choose to get your furry baby microchipped as well. It might seem to be a painful choice, but since dog tags are easily removable, well, you never know! It is still better to be safe than sorry.
3. Driving Purpose
Your furry little pooch is now ready to go! Next, it is time to decide on what kind of experience you want to have during your driving cross country with your dog.
What kind of a driving purpose do you have in mind? Do you want a long drive that ends up in stargazing together in a serene camping ground? Hiking in a park outside the city? Or do you simply want to enjoy driving on the road with your furry babies accompanying you?
Think about it carefully because your desired activities will lead you to different kinds of preparations.
4. Find Dog-Friendly Travel Destinations
When you have decided on a particular purpose for driving cross country with your dog, you can then find a travel destination that allows your dog to enter and enjoy the experience together with you. After all, you wanted to use this chance to spend more quality time with your furry babies, so it would be meaningless if your travel destination does not allow dogs to enter their sites.
Furthermore, if you want to enjoy several staycations across the States instead, always remember to book a room in a hotel that is also friendly to your furry companion.
Finally, if you don't know where to go, you can always look up for recommended dog-friendly travel destinations on Yelp and see if you can find the ones you like.
5. Duration
Basically, when you have decided on your purpose of driving cross country with your dog and found your desired travel destinations, you can conclude how long your road trip will be.
Still, if you are a newbie traveler, you might want to start with an easy 3-day road trip as a warm-up. On the other hand, if you are an experienced traveler, you can go wild with your thoughts and enjoy your two-week driving cross country with your dog! Go drive your way across the States with your faithful companion as a proud American dog parent!
6. Pack Your Dog Travel Bag
Packing for your furry little pooch will be a lot easier once you have a clear image of what your trips will be like. This you have done by deciding on your driving purpose and figuring out all of your travel destinations. This way, the next thing you have to do is just pack accordingly.
Still though, deciding what to pack for two-week driving cross country with your dog might provide you more challenge than packing for shorter trips. Because for long travels, you would want to pack enough, and yet the space available is quite limited.
Rest assured! We will help you.
There are so many things you need to pack for a long road trip, but you have to focus primarily for supplies and equipment you cannot add along the way. Here are some examples of essential supplies and gears you need for driving cross country with your dog:
a. High-Quality Dog Travel Bag
The first vital gear you need in packing your dog's supplies and equipment is, well, the pack itself. While some dog parents are okay with packing foods and toys using zipper pockets within a regular bag, we highly suggest that you purchase a dedicated dog travel bag for preserving your dog food better as well as preventing leaks.
Our best recommendation is the PELEPET 3 in 1 Dog Travel Bag if you are the one-bag-for-all type of a person or the Hilike Pet Travel Bag for much simpler choice. These two bags fulfill all your travel needs, including collapsible silicone food and water bowl, as well as dog food containers to better preserve your dog food on your trips.
Still not sure about the bags?
That's fine, if you need more references, you can also read our current article for best dog travel bags.
b. Vitamins and Medications
Remember your trip to the vet? Once your dog travel bag arrives and ready, put your dog's vitamins and medications inside immediately. You never know what is going to happen on your trips and you have to prepare well regarding your dog's health.
c. Copy of Vaccination Certificate and Medical Records
This is equally important as your dog's medications. While we can anticipate and predict many possibilities, the unexpected can still happen anytime.
Therefore, you need to have a copy of your dog's vaccination certificate ready, as well as their medical records. It will be extremely essential in case your furry baby gets sick and needs to visit the nearby clinic. You can save the copy on your phone or carry one on your dashboard, it's up to you.
d. An adequate amount of dog food (or more!)
Well, there is no need to explain the importance of preparing enough food for your furry little pooch. You can always prepare a large bag or several smaller ones of your pup's usual food in addition to the one you have put inside your bag's lined food containers. It all really depends on how much your dog usually eats and how long your travel will be.
For example, if your dog eats 2 cups of dry food every feeding, then a one-week driving cross country with your dog would require you to bring at least 30 cups of dry dog food. However, we really suggest that you bring additional bags prepared, in case your travel is extended somehow.
Two of our most recommended dog food are the Purina Pro Plan SAVOR and Pedigree Adult for they are high-quality dog food that offer packages in various travel-friendly sizes.
e. Lots and Lots of Treats
Driving cross country with your dog for the first time means a whole new experience for them. It also means that they are going to need more training, over and over again. For that reason, make sure you bring lots and lots of their favorite treats. These will be an extremely effective training aid for rewarding your furry little pooch when they can successfully follow your command, especially when they can do it right away.
Our recommendation for travel-friendly treats are the Milk-Bone MaroSnacks Dog Treats and the Old Mother Hubbard Crunchy Classic Natural Dog Treats that are available in various package sizes.
Put some of them in a treat training pouch like the one from Paw Lifestyles for easier use on breaks.
f. Food and Water Bowls
If you have decided to purchase a dog travel bag, you would not have to worry about these bowls as they usually come with the bag. However, having another set of spare would never hurt. You can get regular collapsible silicone bowls like the ones by COMSUN, or you can try Kurgo No Spill Dog Travel Bowl with the no-spill feature.
g. Sealed jugs of water
Your furry baby also needs lots and lots of water supply, even more on long road trips. That's why make sure you have prepared enough sealed jugs of water to refill your dog water bowl or travel water bottle.
h. Toys
It is a long, long journey. There is no way your furry little pooch can stay still all the time during the road trip without doing anything. Dogs get bored too, just like humans.
Thus, to prevent them from playing and chewing your things in their boredom, you need to prepare plenty of their favorite toys to keep them busy during the drive. Preferably the ones they can use for various purposes like the Nylabone Power Chew Toy or America's best classic Benebone Real Flavor Wishbone Dog Chew Toy.
i. Collars and Leashes
Most travel destinations, even though they are pet-friendly, would still require your little pooch to be constantly on a six-foot leash maximum. Yet, you can also prepare an additional longer leash like the Hi Kiss Long Leash available in different length from 15 to 100 feet. It will be beneficial to supervise your dog while they are running around in an open field area.
As for the collar, you can use the LED dog collar like the ones by Blazin' Bison. This LED dog collar has 3 different light modes: on, strobe, and blink, and will be perfect for evening hikes. Or you can choose the PetSafe's KeepSafe Break-Away Collar if you prefer a classic and sturdy dog collar with safety buckles.
j. Paper Towels or Pet Wipes
Driving cross country with your dog means that your furry baby will last for some time until their next bath. Moreover, there is a high chance of your dog getting lots of dirt, sand, or mud on their paws and body from your various activities.
For this reason, you would need to prepare enough paper towel or pet wipes like Pogi's Grooming Wipes to clean and wipe away your baby's paws and body.
On the other hand, if you plan on having more water activities, paper towels, and pet wipes will rip you off. In this case, you would want to bring an old towel to dry your dog's coat instead.
k. Dog waste bags
You do not want to be the irresponsible pet parents who do not pick up after your dog. That would be thoughtless and against the law. Thus, make sure you prepare plenty of dog waste bags to pick up after your furry little pooch along the way. Ordinary poop bags are made of plastics, but the biodegradable ones like the My AlphaPet Dog Poop Bags Refill Rolls or the Earth Rated Compostable Dog Poop Bags would be more eco-friendly options.
l. First Aid Kit
Always be the dog parent that is prepared for all types of situations, especially when your little furry baby is injured. Bring first aid kits like RC Pet Products Pet First Aid Kit or the one from iCare-Pet that features a thermometer and a veterinary otoscope.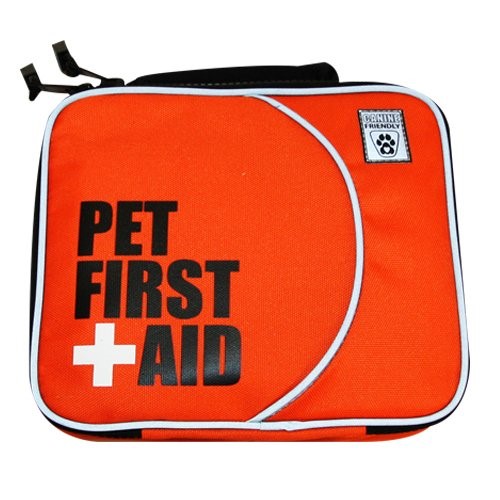 7. Be Properly Informed!
It is essential to be adequately informed about the locations where you will be driving. That includes routes, rest areas, restaurants, activity grounds, as well as clinics and vets.
If you have a final destination in your road trips, make sure you take notes of the nearby vet clinics' as well as human hospital's contact information for emergency situations. We know we have 911, but fending for ourselves is always the best choice.
So, are you ready for the most epic adventure ever? Driving cross country with your dog for the first time might indeed make you hesitate in the beginning. Still, once you have successfully completed the journey, you will most definitely be excited to do it all over again! It is the perfect method to strengthen the bond between you and your furry little pooch.
Remember, though! Don't traumatize yourself and your furry babies by directly driving for a two-week road trip in your first try! Always start with something small, probably a 3-hour drive warm up. Then, you can slowly escalate to more prolonged and more extended road-trips. This way, both you and your dog will be better prepared and can properly level-up on your experience.
Have a safe journey and enjoy!