Doggiebreeds.com – If you start thinking to own dog as pet, small to medium dog breeds might suit your interest. They are relatively easy to be taken care of compared to the giant dogs. In addition, there are many kind of them you can choose. Whether you like the one with lots of fur, dogs with short hair, or other certain characteristic you may like, you can search for one.
The problem with fur is that some dogs are not hypoallergenic, so they are not friendly for your health and hygiene. This article will then help you deciding which dog you should pick if you have an allergy problem with dogs.
Small to Medium Dog Breeds Hypoallergenic
Maltese terrier
Hypoallergenic: Yes
Life span: 12 – 15 years
Origin: Mediterranean Basin
Temperament: Playful, Affectionate, Lively, Docile, Fearless
Height: Male: 8–10 inches (21–25 cm), Female: 8–9 inches (20–23 cm)
Weight: Male: 6.6–8.8 lbs (3–4 kg), Female: 6.6–8.8 lbs (3–4 kg)
Maltese terrier is one of the most popular small to medium dog breeds which are known to be quite friendly on not shedding its fur all over the house. Blessed with white coats, they are also playful and faithful to their owner. They lean on a smaller side on the range of small to medium dog breeds. Mainly, they don't need to be groomed regularly. You just need to make sure to keep their fur short and clean.
Bichon frise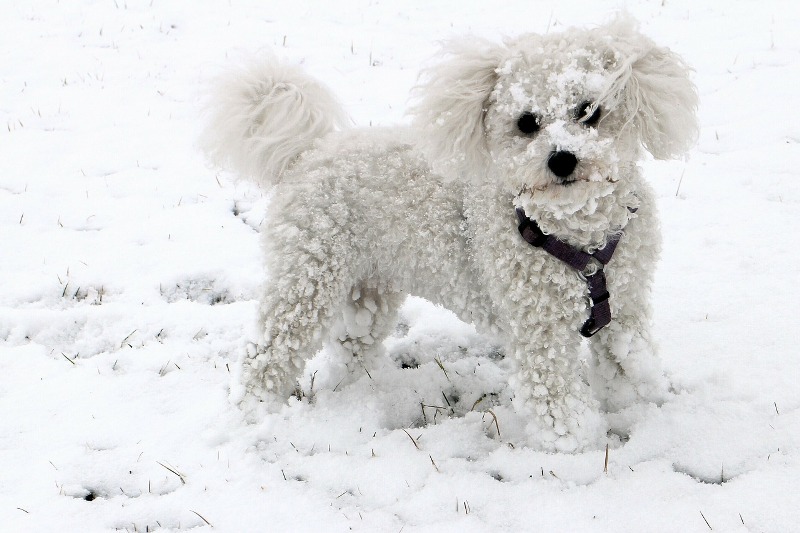 Hypoallergenic:

Yes

Life span:

12 – 15 years

Coat:

Medium length, silky texture with corkscrew curls

Litter size:

4 to 6

Temperament:

Playful, Affectionate, Gentle, Feisty, Cheerful, Sensitive

Weight:

Male: 6.6–11 lbs (3–5 kg), Female: 6.6–11 lbs (3–5 kg)
Bichon frise is another popular hypoallergenic categorized in small to medium dog breeds. They are easy to be trained, cheerful dog and pretty independent on themselves. Their fur is easy to be maintained as long as it is kept clipped. Getting it from their ancestor, they love water. So, taking them to bath won't be a big problem.
Labradoodle
Hypoallergenic: Yes
Dog Breed Group: Hybrid Dogs
Height: 1 foot, 9 inches to 2 feet tall at the shoulder
Weight: 50 to 65 pounds
Life Span: 12 to 14 years
Other than said dogs, you may like Labradoodle as well. Labradoodle is a type of mix breed that was starting to gain its popularity in late-1980s. Though they are known as hypoallergenic dog, the trait might still be different in each dog since they are naturally mix breed. You just need to make sure that their parents are free from health problems to ensure that your dog has the trait that you expected.
Those three dogs are only few examples of hypoallergenic dogs you can get on the pet store. If you want a guaranteed dog which does not shed much, you might consider getting a hairless breed, such as Chihuahua. They can be as cute and they do not need much maintenance such as dog with long furs. Nevertheless, keeping the environment clean is very important, either for your family or for your dog. Therefore, having a pet means taking a great responsibility. It doesn't matter either you get small fluffy dog breeds or the giant one as the key is discipline in maintaining your pet's hair on its place.