A dog owner must put in the effort to find the ideal dog and not settle for a mediocre one.
However, appearances aren't everything. The first step is to choose between buying a dog from a shelter or one from a breeder.
One problem with the first approach is that many dogs at shelters are older and cannot be trained. Each of their characters has been completely established by this time.
If you decide to adopt a dog this way, your responsibility as an owner is to find a way to work around it.
Puppies are available for purchase from a breeder.
To train him till he reaches adulthood, you have a lot of time. Nevertheless, various breeds have diverse personalities and characteristics.
Now regarding the size, would you want a small dog or a large one? There are quite a lot of choices. If you want a large one, think of how large it would be.
Should it be like a Great Dane or a bit smaller? Here are some of the most popular large dog breeds that you can choose from.
DoggieBreeds.com is reader-supported, and as an Amazon Associate, we earn commissions from qualifying purchases (at no extra cost to you). See our disclaimer page for more information.
The Most Popular Large Dog Breeds in The USA
---
1. Mastiff
Characteristic
The mastiff is an old dog breed that people used in wars. He has a muscular body and a fierce sounding bark. He is one of the biggest breeds that can weigh more than 200 pounds. Despite his intimidating appearance, this breed turns out to be very gentle, probably among the sweetest dogs you'd ever meet.
Personality
These dogs are good-natured and affectionate towards family members. They can be friends with older children. But for younger ones, parents need to be cautious. They may not try to hurt toddlers intentionally, but things can take an unexpected turn at any time.
Intelligence
It can be hard to train a mastiff since this dog breed is known for being stubborn. As an owner, patience is key. And you need to train him regularly. Don't use harsh punishments because these dogs are very dominant.
Maintenance
Maintenance is easy because the mastiff has a short coat. Grooming should be done at least once a week. If you have the time, daily grooming is a good idea. Use a brush to remove dead hairs, so they aren't scattered all over the floor.
Allergies
The breed can have allergies to different things, like mold and pollen. But instead of sneezing, the symptoms may appear as an itch of the skin. If your dog constantly rubs his face, beware that he might have some sort of allergy.
2. Great Dane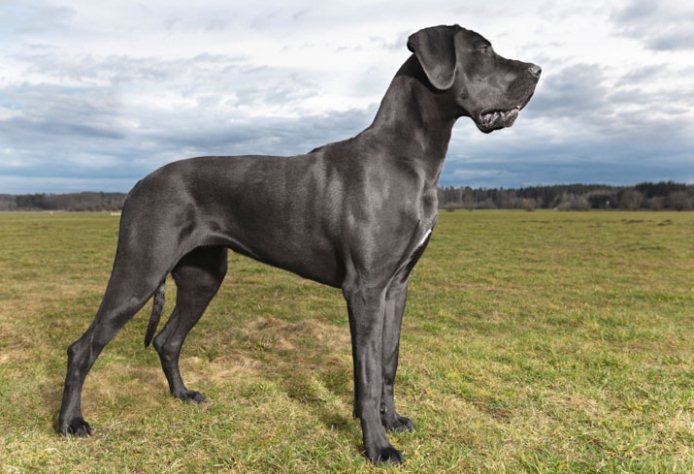 Characteristic
These dogs were bred to help humans hunt wild boars, but they are totally different creatures these days. The Great Dane is known for being enormous in stature, but he's actually a gentle giant. He loves humans and other dogs.
Personality
Despite his big body, this breed carries a graceful persona. He's loyal to family members and can get along well with family members. The Great Dane is known to be energetic, which means he needs constant exercise.
Intelligence
Socializing should be done from a young age. These dogs aren't typically obedient, but they are very smart. Although it might look like he's unwilling to learn, he's the capability for that.
Maintenance
The Great Dane makes a perfect pet dog for those who don't want to do frequent grooming. You can do that once in a week or even longer depending on how quickly he sheds his hair. Basically, this breed is low maintenance.
Allergies
He's known for having skin allergies. You can see it from the way he behaves. If he keeps licking paws and shaking his head, he probably has this issue going on.
3. Newfoundland
Characteristic
The Newfoundland came from a breed native to the island of Newfoundland. It had been crossed multiple times, resulting in a new breed with the unique characteristics maintained to this day. He's known as a faithful dog especially to his owner. Despite its large size, this dog has a gentle disposition, making it an ideal choice for those looking for larger breeds.
Personality
There lies a sweet personality behind the intimidating stature of this dog. He is well-mannered and calm. He can be surprisingly social with kids. In fact, his love for children feels so genuine. He's ready to protect his family at any time.
Intelligence
He's an obedient dog, but training can take more time compared to other breeds. He learns best when positive reinforcement is involved.
Maintenance
Newfoundlands shed moderately, so maintenance wouldn't be too stressful. Just make sure to groom him regularly to keep your house free of dead hair. They shed more frequently in the fall and spring. During these months, daily grooming is necessary.
Allergies
These dogs can develop some types of allergies, like food allergies and skin allergies. The symptoms are usually identifiable. The best you can do as an owner is to keep him away from the causative agents. And if his problems have to do with food being fed to him, pick better food next time.
4. Saint Bernard
Characteristic
Saint Bernard is a large breed with a sweet disposition. He's also loyal and likes being surrounded by children. The dog is protective of his family, making him a great watchdog.
Personality
Saint Bernard has a calm demeanor. These gentle giants are very careful not to hurt kids that play around them. They also love to take part in family activities.
Intelligence
He is willing to learn tricks that you teach him. Proper training is a must for a dog this big. You'd want him to behave well till adulthood. He does best with reward-based training. Although he loves treats, don't feed him too much. A large dog that is obese is a cause for concern.
Maintenance
These dogs come in two types of hair, long and short. Regardless of the type, there are two periods in a year where they shed more heavily than usual. Keep your stiff brush close by just in case your pet needs daily grooming.
Allergies
Like many other canines, Saint Bernard can also suffer from food allergies. Put your dog on a hypoallergenic diet if you notice some of the symptoms, like diarrhea, licking, and scratching.
5. Leonberger
Characteristic
The Leonberger is a bred specifically developed for its looks. This breed is affectionate and has a high level of loyalty to the owner.
Personality
He is very lovable and patient. He doesn't like confrontation. When the tension goes through the roof, he'd rather walk away instead of becoming aggressive.
Intelligence
Training requires patience. He won't welcome any harsh instructions. All it takes is consistency and repetition. Although he needs time to learn, he's an eager dog. Besides, he's very social even with other dogs. Socializing should be done from an early age.
Maintenance
Groom him more frequently in the spring and fall because this breed sheds profusely in these months. Outside of the seasons, shedding should decrease to moderate levels.
Allergies
Some of the health problems that this breed has are hereditary. They are also at risk of developing allergies. Allergens can make them scratch uncontrollably, which may lead to bacterial infection. Take him to the vet if the scratching is getting out of hand.
6. Golden Retriever
Characteristic
The Golden Retriever is among the most lovable large dog breeds. Their immense popularity makes people want to have them as pets.
Personality
This breed is well-mannered and eager to please the owner. He also has a happy personality and loves to be around humans. He gets along well with children, making him a great companion dog.
Intelligence
His clumsy demeanor is not to be mistaken for not being intelligent. In fact, the dog is actually smart. It doesn't take long to make him understand some basic tricks. Positive training is the best way to bring out his personality and take his obedience to the next level.
Maintenance
This is one of the breeds that require high upkeep due to excessive shedding. The hair will quickly mat if you don't groom him on a regular basis. Bathing is also a must because he likes playing in the dirt and mud.
Allergies
The breed's vulnerability to health problems stems from mass breeding. They used to be energetic and strong, but now they have quite a lot of problems to deal with, such as hip dysplasia and retinal atrophy. They may also have skin allergies from environmental changes or a poor diet plan.
7. Labrador Retriever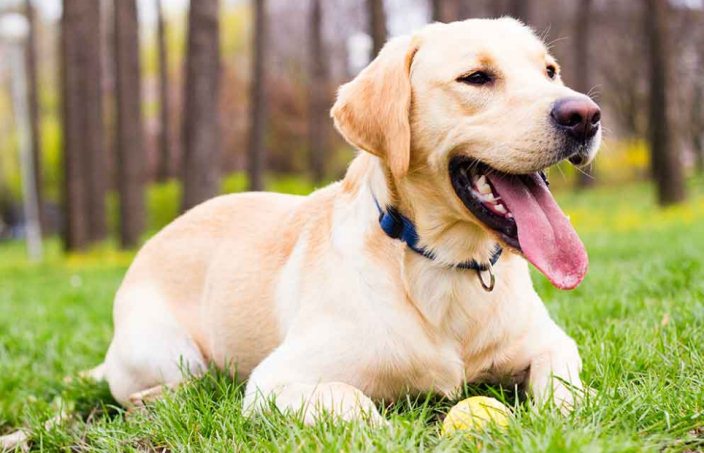 Characteristic
This large dog breed can weigh over 80 pounds. Compared to other retrievers, he has a shorter stature, but a more solid body.
Personality
This breed is even-tempered and outgoing. Besides, he's also social with children. However, parental supervision is still necessary because any dog can turn aggressive given the right circumstances.
Intelligence
Apparently, the Labrador Retriever is among the smartest dog breeds ever. They can excel in obedience training as long as you give them time to learn. And most importantly, treats will make them more willing to learn.
Maintenance
Seasonal shedding is to be expected, but in general, these dogs shed moderately. Just make sure you brush regularly because their hairs can find their way onto your furniture and hidden parts of the house.
Allergies
Being famous doesn't give the breed the advantage of not having health problems. This breed is no different from others. He can also suffer from allergies due to food intolerance or genetic predisposition.
8. Rottweiler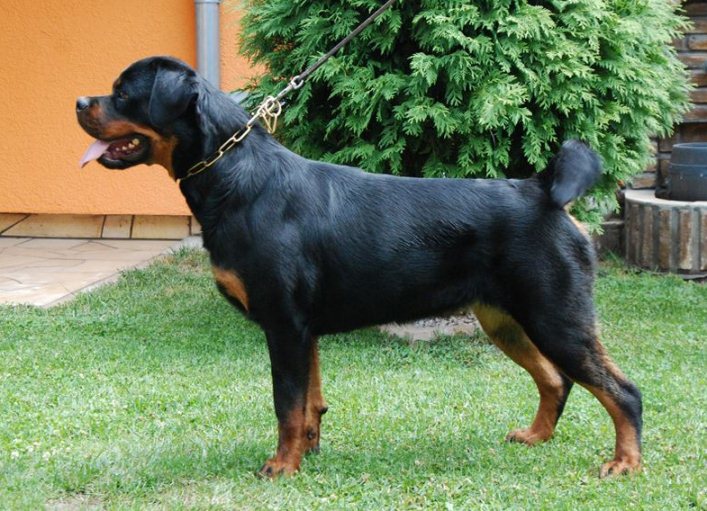 Characteristic
The Rottweiler is a stocky dog breed that responds to strangers with a wait-and-see attitude. He has the tendency to be territorial if you don't socialize him well.
Personality
Raised with love, this dog should turn into a loving creature that gets along with whoever he meets. However, he is still protective by nature. Socializing is key to keeping him relaxed around people and dogs.
Intelligence
These dogs are surprisingly easy to train thanks to their high intelligence. They'd love to learn some new tricks with the right training methods. They are also keen on pleasing their owner by focusing on the commands taught to them.
Maintenance
The breed doesn't need excessive grooming. The goal is to remove dead hair and maintain his physical appearance. Keep an eye on the ears and other hidden areas. They need to be cleaned regularly since the dog may pick up dirt and dust when he played outside.
Allergies
As one of the most recognizable breeds, these gentle giants have their fair share of health issues. They can develop allergies if the causative agents are around.
9. Bernese
Characteristic
These dogs were originally bred to pull carts and do general farm work. They can reach a weight of approximately 110 lbs. And they can live for up to 8 years on average.
Personality
Bernese has no problem being social with kids as long as he's been conditioned that way since he was a puppy. Without a good amount of interaction, he can be cautious about his surroundings. He doesn't respond well to noises that are foreign to him.
Intelligence
Owning a large dog is a challenge. As an owner, you must want your dog to obey your commands. Luckily, this breed is a fast learner and a pleaser. Training should start early in his life so that you can shape him into a well-mannered companion.
Maintenance
One or two times of brushing per week are good enough. Just like any other dog, his hairs are constantly shedding, so you need to remove them in order to keep his coat clean.
Allergies
Many large dogs have short lifespans, which shy people away from adopting them. Even when compared to other large breeds, the Bernese still lags behind in life expectancy. This has to do with various health problems they can develop, including allergies
10. Cane Corso
Characteristic
The Cane Corso is the epitome of agility and endurance. He has a solid build, making it a reliable watchdog. It's even-tempered but can become cautious with strangers.
Personality
This breed is able to show deep emotions. He isn't shy to let you know when he feels joyful or stressed out. This dog is very intelligent. With proper training, he would know how to act in certain situations. He's also loyal and protective of his family.
Intelligence
This dog acts friendly to those he knows closely, but the protective nature can make him snap out of his calm demeanor. Speaking of intelligence, when he knows his jobs, he can execute them very well.
Maintenance
They are light shedders, so grooming shouldn't be a frequent thing.
Allergies
Skin diseases are quite common in this breed. Treatment should depend on whether the problems are inherited or acquired.
Picking the best large dog breeds Conclusion
---
These were some of the most popular large dog breeds. Choosing a dog is a big decision to make. There are many things that matter besides size, like health, maintenance, characteristics, to name a few.
A large dog may look tempting to have thanks to his intimidating appearance, but it's a known fact that larger breeds also have shorter lifespans. Besides, dogs vary greatly in personality.
Each breed was developed for a reason. Do some research, so that you comprehend the personality traits of the dog you're going to buy or adopt.
Get to know his strengths and weaknesses, how to train him, and how to deal with health conditions that the specific breed has. Don't select a dog solely on looks.
There are way more important things to look into, like your lifestyle and habits. Please be willing to invest your time to love him and take care of his well-being.
You May Also Like